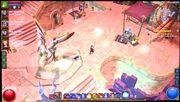 Zeryphesh is the main hub town of the Mana Wastes in Torchlight II, Act II. It is inhabited by the Zeraphi.
The town is connected to the Ossean Wastes, an overworld area, and to the Empty Quarter, a pass which leads to the second overworld area, the Salt Barrens.
Community content is available under
CC-BY-SA
unless otherwise noted.