Trolls are a class of giant, humanoid monsters in Torchlight.
Giant and slow-moving, these trolls have knock back and area-of-effect smash attacks. Weaker trolls appear in Orden Mines, while stronger trolls and their boss Krag inhabit the Molten Prison.
Torchlight I
[
]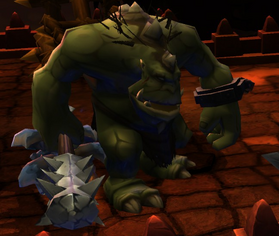 In Torchlight II

[

]
The trolls are much more gigantic and menacing-looking than the previous installment. A boss Troll, King Pogg, can be found in the Emberscratch Mines.
Name
Image
Element
Abilities
Location
Swamp Troll

Boulder Smash
Axe Pull
Leap Attack
Cannot be Interrupted

Blightbogs, Reeking Cellar
Rock Troll

Boulder Smash
Axe Pull
Leap Attack
Cannot be Interrupted

Middenmine
War Troll

Boulder Smash
Axe Pull
Leap Attack
Cannot be Interrupted

Sundered Battlefield
Gallery
[
]