Spectral Dragons are undead creatures that appear in Torchlight II. They are the remnants of dragons that were held captive by a cult of Estherians who fed them tainted Ember. After death, they rose up as "feral spirit-dragons."
Name
Image
Element
Abilities
Spectral Brute

Dash Attack
Cannot be Interrupted

Spectral Dragonkin
Boss: Spectral Dragon
Edit
There is a Spectral Dragon boss which can be found as one of the randomized bosses in the random dungeon maps from Compass the Map Seller (see Mapworks ).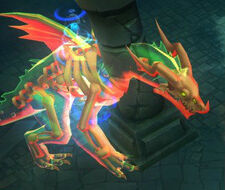 Abilities
Edit
Acid Breath
Bone Cage
Bone Spikes
Smash Attacks
Known Loot
Edit

Snakebite
References
Edit
Community content is available under
CC-BY-SA
unless otherwise noted.