New Game Plus is a game type in Torchlight II that allows players who have completed the main campaign to restart with the same character and face greater challenges. This appears to replace the retirement system in the original Torchlight.
When starting a New Game Plus, the character will retain existing items and skills, but:
monsters start with level 51 or more, equals more money and better items to be found.
your whole main quest and mini quests are reset and must be completed again
multiplayer is restricted to New Game Plus players, so no lower/higher players will join.
After you end game again you can choose again New Game Plus, ending in New Game Plus Plus and so on.
New Game Plus is also referred as NG+, with additional plus signs depending on your character.
When you see your person, you can see under the model of the player the status of th New Game Plus.
New Game Plus Plus (NG++) starts at level 81.
New Game Plus Plus Plus (NG+++) starts at level 100. This is the maximum level that player can achieve.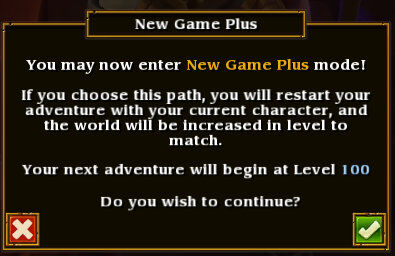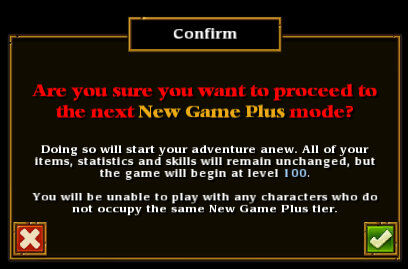 Community content is available under
CC-BY-SA
unless otherwise noted.