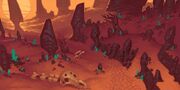 The Mana Wastes is the geographical area that is the setting of Act II of Torchlight II. It is a vast desert full of ruins and dotted with blue mana crystals.
Town
[
]
Zeryphesh is the crumbling remains of the once-great city of the Zeraphi and serves as the hub town of Act II.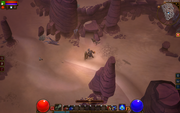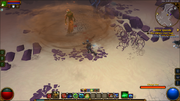 Overworld areas
[
]
Ossean Wastes - a desert overworld area characterized by sand dunes and the skeletons of giant animals. Zeryphesh is located here.
Salt Barrens - a dried-up inland sea characterized by parched, cracked earth and ancient shipwrecks. Located beyond the Empty Quarter.
Passes
[
]
References
[
]