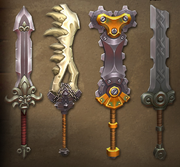 Great Weapons are a type of two-handed melee weapons introduced in Torchlight II. They include swords, axes, hammers, and apparently any two-handed melee weapon. According to the official site, "greatswords serve as the badge of office for the Emperor's Guard, and Imperial Engineers use massive, two-handed spanners and hammers on a daily basis."
In Torchlight II, characters have specialized animations for wielding two-handed weapons, which they did not have in the first game.
Icons
Name
DPS
Attack Speed
Item Level
Required Level
(OR) Requirements
Set
Ole's Massive Wrench
160
1.56
15
19
Strength 27
Vitality 27
Ole's Tool
Severance originally has two sockets *
Community content is available under
CC-BY-SA
unless otherwise noted.