The Estherian Steppes is the geographical area that corresponds to Act I of Torchlight II. It is a mountainous region that features grassy cliffs, as well as ice-covered peaks, partially inspired by Tibet.[1]
Town
[
]
The Estherian Enclave is one of the earliest areas in Act I and serves as its hub town.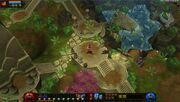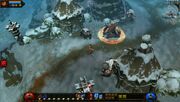 Overworld areas
[
]
These overworld areas, like all overworld areas in Torchlight II have become infected as the Alchemist passes through on his evil mission. The normally placid and friendly tribal creatures have become infected with a disease that has no immediate cure.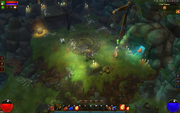 Passes
[
]
Echo Pass - The starting point for the game, Echo Pass connects to the Estherian Enclave.
Path of the Honored Dead - The cemetery/memorial of the Estherian Enclave, this pass is covered in fog and has become infested with the undead. It connects the Estherian Enclave to the Temple Steppes. Contains the entrance to the Corrupted Crypt dungeon.
Crows' Pass - This pass connects the Estherian Enclave to the Frosted Hills. Contains the entrance to the Widow's Veil dungeon.
References
[
]