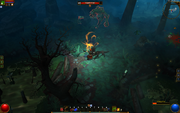 The Blightbogs are an overworld area in Grunnheim in Act III of Torchlight II.
It is a haunted swamp populated by werewolves, witches, and ghosts. It is connected to the Imperial Camp via the Rotted Path.
The swamp is covered in flame vents which make warning spurts of fire with popping noises before firing jets of flame (which do a fair amount of damage). These may be easter egg references to the Fire Swamp in the The Princess Bride, where the vents have very similar sound effects and patterns of flame.
Dungeons
[
]
Gallery
[
]